5 months in! She said hello this morning :)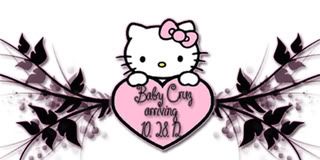 18 weeks, 1 day today. Almost half way there! Still feels like a light year though :/
Anyways came back from another scan and everything still seems to be in tip top shape. Darling daughter of mine seems to have been keeping herself busy as I still feel her thumping my stomach a couple times a day. I think she likes her new found skill :P
Under the surface, everything else is just peachy. I can sleep again, I'm not craving so many things at once, but I am seriously obsessed with cherries and cereal at the moment.
We also have settled on a name!!!! But we're not going to tell it just yet...(;
Here's now where things start getting serious. I have the shower to plan, as I am making my own candy decorations. I also found a nursery that I just love so I'm trying to save up for that.
Oh, and well I can't keep it a secret anymore.